[Cheers to Bigus Dickus for the snapshot]

The "Dickstomp".
It's an especially sweet, humiliating form of torture, one that longtime Arsenal fan and Deadspin writer David Hirshey has enjoyed dishing out to the EPL rank-and-file for some time now.
In Tottenham's case, they've been dickstomped enough to be reclassified as being positively female, their genitals now a pallid, gray mash thick with bootprints and ridicule.
Well, last night, it was Arsenals' babies who felt the cruel smash of shoe-on-groin.
Hirshey, Bigus Dickus and myself gathered to enjoy the game in midtown, and by the hour mark, Hirsh had packed up and scurried back to the office, muttering something about having flap copy to write.
From the third minute onwards, after Jenas' jinking run-and-shoot goal amid a sea of pubescent Gooners, you had a bizarre thought in the back of your mind: will this turn into a rout? It did, thanks to further goals from Lennon, Keane, Malbranque and a superbly-headed own goal by Bendtner.
Arsenal tried their best to keep it competitive; after an early injury to Denilson, Fabregas leapt off the bench to play 75 minutes. Wenger's excuses about it being a young side were shaky at best from the get-go, with Gallas captaining and playing his first game in the Carling Cup for three years, and the decidedly non-youth team presence of Sagna and Hleb for the full 90. After the fourth Spurs goal, one which saw Goon keeper hiding his face from the shot, Wenger sent Eduardo and Adebayor into the game for reasons best left unknown.
And in proof that dickstomping can be successfully applied to oneself, Adebayor butted Bendtner in the nose, prompting such a row on the field that the FA's requested footage of the incident.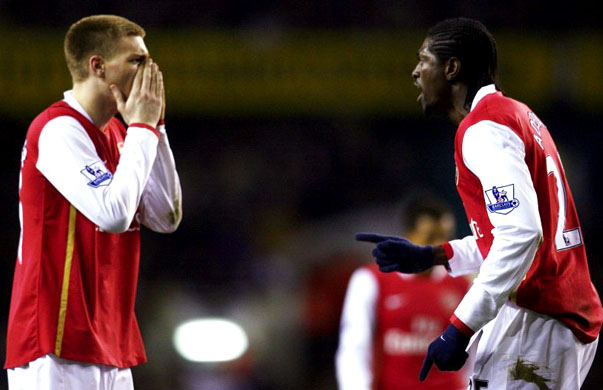 Malbranque's injury-time tap-in completed the rout, and ended Arsenal's long, arrogant run of consecutive wins in North London derbies.
As a Scouser, it irritates me that Arsenal do not lose very often, but they need to remember this feeling. It's important to know how to lose with grace, and casting all the youth and inexperience comments aside, their on-field petulance and fondness for dirty from-behind tackles in the last third of the game was hilarious to watch.
This is Spurs' biggest win against Arsenal for almost 25 years, and their first win against the Goon since 1999.
And while it's only one game in a middle-of-the-road knockout tournament, it still feels good. Seeing a big team get embarrassed every once in a while gives the pretenders hope. It lets you know that the game is still all about who wins in the 90 minutes, regardless of current form. Bendtner and co can put this to one side, say their apologies and get themselves ready for an EPL run that sees neither Spurs nor my Liverpool in the hunt for the trophy.
It remains to be seen if Arsenal will have recovered their genitals for Keegan's jaunt into town this weekend.
Photo Credit: Andrew Couldridge/Action Images