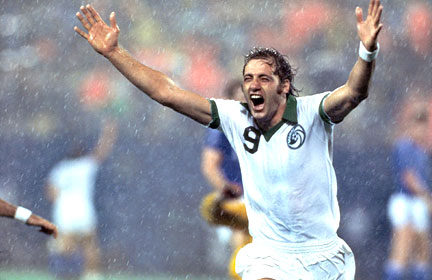 In today's installment of "Laughing at the Misfortunes of Horrible People and/or Institutions" we get to point and guffaw at SS Lazio, perhaps the most miserable of Serie A clubs. They've been in trouble before thanks to their right-wing extremist supporters' groups, Paolo Di Canio's angry, rabid fascist salute (captured on camera!), and their dismal run of form since 2001 when their owner was forced to withdraw due to a financial scandal.
Then there was their bank-owned run from 2001-2004, and of course, the match-fixing scandal in 2006!
Their hands are awfully dirty, and now it gets worse. You see, back in 2006, a consortium led by former Lazio player and president Giorgio Chinaglia (also the outspoken striker featured in "Once in a Lifetime", the NY Cosmos documentary that also gives some face time to our friend, David Hirshey), wanted to buy the club. The president, Claudio Lotito, wasn't into that idea and didn't want to sell.
This prompted a wave of harrassment and general unpleasantness from "fans" who were attempting to intimidate him Lotito into selling, and Chinaglia was charged with extortion linked to his bid.
Naturally, he remained in the United States as a fugitive, and yesterday saw more warrants handed down as the police investigation revealed that Chinaglia was played a significant role in the attempted takeover, which was bankrolled by the Camorra, also known as the Naples mafia.
Italian football: does it get any better than this?


Thankfully for Chinaglia, he's still found a fair bit of work as an ESPN talking face over the years, although now he's out of contract and might well be shit out of luck. After all, won't he have to answer to these charges eventually?
He was quite good on the pitch, scoring a remarkable 242 goals in 253 games for the New York Cosmos and 108 in 209 for Lazio before that, but now he's in danger of becoming yet another crooked Italian ex-player with links to the mob.
We might well have a couple of those in our upcoming UF F.F.T.T. series (to be explained later here), but until then, comfort yourself with knowing that he's not in jail yet, despite the fact that he probably should be.
We leave you with a video of Chinaglia in better days, when he wasn't busy being an incoherent fugitive.