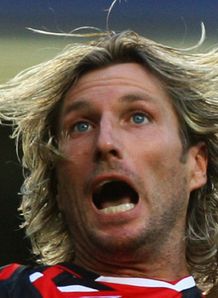 Blond idiot who loves nice cars, seeks teams that'll pay him for not doing much

Robbie Savage, the blond-haired tosser that I never liked, is in the news this morning for predictably bad reasons.
He's not been playing well for Derby since arriving from Blackburn last month, his team is on pace to shatter the record for futility in the EPL [9 points this season, with just one League victory], his teammates are low on confidence and now, he's turned up for training in a $320,000 car.
Not surprisingly, the other players weren't very happy, considering they're all making bugger-all and Derby's just under three months away from stumbling back down to the Championship.
Is it his scar that scares them? No, it's his car.

As weird as this might sound, there is definitely a precedent. When Sunderland were relegated from the EPL in 2003, then-manager Mick McCarthy fined captain Michael Gray two weeks' wages and removed the captain's armband from him after he showed up at the ground in a new Ferrari.
Jewell's not about to take such measures against the long-haired idiot, although he recognizes the insensitivity of it all:
"It's about having a bit of decorum. If 70 people are getting laid off, leave it a couple of days before you come in in your Ferrari....Sav had a flash car before he got here. All the players here have flash cars, it's the Premier League - 'Premier League player has flash car' shock, horror. Robbie Savage is an international footballer. He's played in the Premier League all his life, so he's entitled to earn a lot of money and to spend it how he likes. It's when some people drive flash cars ... and think they've cracked it, that's more of a problem."
The subconscious punishment for Savage is that he's likely to be dropped this weekend following a string of absolutely shite performances. At least he can cry all the way home in his shiny Mercedes and listen to the match at the same time.