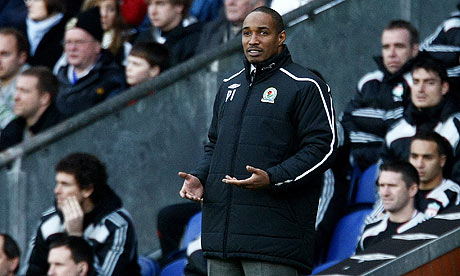 I'm rubbish at predicting scores, and he's rubbish at running a club. Couldn't hurt for us to switch, could it?
Well, I was outright crap last week (4 winners, 0 exact scores), thanks to a slew of 91st and 92nd minute goals that choked any fun out of the rest of the weekend. Stoke daggered my hopes of collecting on a Newcastle win that appeared rock-solid at half-time, Man U needed every last second to steal 3 points that they most definitely deserved, while Hull left it wonderfully late to score their 2 goals and win against 'Boro. Oh, and
the Everton/Aston Villa game
!
Note to refs: when the wristwatch says 90:00, please just blow the damn whistle. Note to Everton: just because you've equalized late doesn't mean it's full-time. Idiots.
So what awaits this week? Which manager will be canned next, and right before the holidays too (like so many corporations)? It has to be Ince. Yet again they've made headlines in the papers about some meetings they had this week, although if
Paul tells us they were routine
and par-for-the-course, we should just believe it. Definitely no crisis summit at Ewood Park, nope. Nothing to see here, folks. Move along. After all, they haven't completely bottomed out yet.
One thing he could do before leaving is figure out the Curious Case of Roque Santa Cruz. Does he only score when he feels like it?
Come thinktank with me and my terrible glimpse into the future. It's full of score draws!

Middlesbrough v. Arsenal (kick-off: 7.45am)
I'm just waiting for the letdown, although does midweek count? Their fondness for winning one week, losing the next, means this could be more dropped points for Wenger. I'll go with that again, just because 'Boro have been unlucky lately and Arsenal aren't dominant away from home. 'Boro 1, Arsenal 1

Aston Villa v. Bolton
Might be tougher than expected, but should still be comfortable for the luckiest side in the Midlands. Aston Villa 3, Bolton 1

Liverpool v. Hull
Ugh, this match has TRAP written all over it in big, bold letters. That said, Hull have fatigued a bit over the last 7 weeks (1 win, 3 draws, 3 defeats) but their away form is still impressive: 2nd in away goals scored with 15 (to Chelsea's 21), and they've scored in every single away game too. Surely that run will continue, but LFC have turned it around after those two momentum-killing draws to Fulham and West Ham. Keane will score. How's that for confidence? Liverpool 2, Hull 1

Manchester City v. Everton
A team that's all-strikers v. a team that has no strikers at all. This should be fun. The Mark Hughes Rollercoaster Fun Ride will continue tomorrow with another win against good opposition that will awaken yet more false hope. Poor Joleon Lescott must be soiling himself considering how many small, fast men he'll have to man-mark.
Man City 2, Everton 0

Stoke v. Fulham
Do I have to choose? Stoke 0, Fulham 0

Sunderland v. West Brom
Do I have to choose (Pt.2: Electric Cisse-aloo)? Sunderland 1, West Brom 0

Wigan v. Blackburn
This is Paul Ince managing for his job yet again, although I'm not exactly confident for him. Perhaps it'd be best to just get the messy break-up over and done with now, instead of that weird half-week workweek between Christmas and New Year's Day. They put up a battle when LFC were in town, but Wigan at home should do better than they did last weekend. Wigan 2, Blackburn 1

Tottenham v. Manchester United (kick-off: 12.30pm)
Berbatov will likely wuss out of this sparkling return trip to his old stomping grounds, which is sad considering Spurs fans really do deserve the satisfaction of hounding him mercilessly. Spurs will give up a lot of space in midfield (because that's what they do!), and Fergie's cult will gladly take the early xmas gift. Let's hope Rooney gifts us with another petulant, violent outburst. Tottenham 0, Manchester United 3

Portsmouth v. Newcastle (Sunday, kick-off: 8.30am)
Do I have to choose (Pt. 3: The Re-Kinnearing)? I'm sure Michael Owen's brace last weekend means he's going to go another month without so much as a sniff at goal. That'll bode well for a trip to Fratton Park and the insane fluky volley stylings of Glen Johnson. Portsmouth 2, Newcastle less than nil

Chelsea v. West Ham (Sunday, kick-off: 11am)
Thankfully there's no Monday game this week, but this one will make you long for the workweek's most wretched day, and frankly, that's a sad thing indeed. It's been a while since Scolari ran up the score on someone. Chelsea 4, West Ham 1