Nope, not today.




Boy Howdy. A cracker to end the day. What will Wenger manage considering his recent losses? No Adebayor today, no Fabregas, no Walcott still...

... come Goon with me after the jump.

FULLTIME SCORES FROM THE 10am GAMES:
Manchester City 5, Hull 1
Middlesbrough 0, Everton 1
Liverpool 3, Bolton 0
Wigan 2, Newcastle 1
Sunderland 0, Blackburn 0
---

LINEUPS:
Aston Villa (4-5-1): Friedel, Reo-Coker, Davies, Knight, Luke Young, Milner, Sidwell, Petrov, Barry, Ashley Young, Agbonlahor.
Subs: Guzan, Harewood, Delfouneso, Salifou, Shorey, Gardner, Osbourne.

Arsenal (4-5-1): Almunia, Sagna, Eboue, Djourou, Silvestre, Song Billong, Denilson, Nasri, Diaby, Gallas, Van Persie.
Subs: Fabianski, Toure, Vela, Ramsey, Wilshere, Clichy, Bendtner.

Referee: Lee Mason (Lancashire)

No Laursen for Villa is a huge concern, but Arsenal are walking wounded at this point so I have no sympathy. Silvestre coming in for a healthy Clichy is definitely bizarre.

We're ready to start, I've got my gigantic turkey/stuffing/ham sandwich, so it's not all bad. Get the beers in, and let's see which Arsenal turns up this afternoon.

1 mins: Some early kick-about. If I'm a Villa fan, I'm not happy at seeing Zat Knight duff up the central defense. Still, so much pace moving forward. It's going to take something titanic from the Arse here. Odds are heavily stacked against, etc.

Early effort for Arsenal as Sidwell and Friedel miscommunicate in front of goal under pressure, but it's cleared.

4 mins: Milner gets a nice cross/shot in from the right, but Almunia's equal to it. Ashley Young lurked for the rebound, but he looked offside.

6 mins: Milner wins a corner off Silvestre as it gets all scrappy in the final third. Barry floats it in and Sidwell rocks the crossbar/post with his towering header. Good start for Villa at home, so close to taking the lead!

The commentary team need to stop telling us that Sidwell played at Arsenal back in the late 90s, even winning a reserves trophy with them despite never cracking the First XI. This is no longer an interesting tidbit; it's a bludgeoning bit of annoyance.

8 mins: More pressure at the Arsenal end as Almunia comes out to meet the long ball with his head just outside the box as Agbonlahor was closing in.

11 mins: A gorgeous deep cross in from Barry via a free kick, and Curtis Davies meets it wide open at the edge of the 6-yard box. His header goes a mile wide. A supremely wasted effort.

14 mins: Lovely play by Arsenal on the break finds Van Persie in the box. His first touch is perfect off the chest, but the giant oaf Zat Knight gets across to snuff out the danger, and in the nick of time too.

16 mins: More desperate defending by the Gooners, and you'd be forgiven for thinking that soccer was played in just one half of the field. A couple of dangerous crosses, a save by Almunia... par for the course at the moment. Arsenal are looking to break but their passing is rather lazy and gifting Villa more possession.

20 mins: Denilson and Sagna aren't going to take this pressure lying down, and neither's Diaby; his long ball looks for van Persie but is cleared. Song fouls Barry in midfield, and we're back down the other end.

Great break for Agbonlahor, and he spins Eboue like a dreidel; his low shot is parried by Almunia, and Sidwell's follow-up is blocked by Gallas and out for a corner. Nervy times again at the back for Arsenal. The lack of pace possessed by William Gauloises and Emmanuel will be exposed soon enough unless they get some help.

22 mins: More scrambling at the back as Villa seem to get free down the wings whenever they want. Another Milner cross is humped clear at the near post, and Eboue tries to reset the defense. The big problem for Arsenal resides in that crowded midfield; they're so young and inexperienced and they're having a tough time keeping possession. The key to stopping Villa is to stop their distribution up to Agbo and Ashley. If the Gooners can hold the ball for more than 3 passes, they have a chance to slow things down. At the moment, it's end-to-end sprinting and Almunia is keeping them in it.

25 mins: To prove my point almost immediately, Petrov wins it easily from Denilson and is promptly battered by Song, earning Song a yellow card. Villa pour forward once more.

26 mins: Arse flirt with danger via their offside trap as Young gets over the top, but he's marginally offside. Not much in it at all.

28 mins: The beast that is Friedel is awoken from a rather peaceful slumber by an Arsenal free kick that he fists to safety. Villa break up the left with Young and Agbo combining once more, but Almunia cuts off the final pass and hoists it out of play. The Villa fans are in full song at the moment, and the tackling in midfield is getting later and later from both sides.

Villa have had 6 attempts on goal, 2 on target, and 5 corners. Arsenal have 0s in every category. Sense a pattern emerging? If you decipher those numbers as being indicative of complete and total Aston Villa domination, you'd be right.

30 mins: Ashley tests the offside trap yet again but Sagna's got it right. Living on the edge, truly. Nasri makes a rare jaunt down the left and is interrupted emphatically by Reo-Coker's sliding tackle.

33 mins: A foul in the box gives Arsenal a breather and Almunia launches it down the other end. Wenger needs to bring Clichy on at some point, because Milner is in danger of owning poor Silvestre for life.

Gallas does well to cut off Agbonlahor's sprint down the left.

34 mins: GOAL GOAL GO-ALMOST for Aston Villa. Nasri does a spot of ball-watching as Barry lofts a free kick to the back post, and Milner sneaks in unnoticed. His sliding effort is well saved by Almunia low to his left via the post. Hit the post, bobbled back into Almunia's arms. Should have been 1-0.

36 mins: Eboue, meet yellow card. Yellow card, meet Eboue. Get acquainted, fellas. He chopped Agbo down on the wing from behind and had no complaints about that one.

37 mins: GO-ALMOST for Villa again! Davies' hook shot on the right sails over Almunia's head, and Miguel is helpless as he watches it rattle off the crossbar and away from danger. Third Villa instance of ball-to-woodwork already today.

If the goal were a foot wider, it's be 3-0. That said, if Grandma had balls, she'd be Grandpa. A difficult first half for Wenger. If he goes to his bench after the break, he's got nothing but youth to turn to. I can't imagine Wilshere or Ramsey doing much to stem the tide.

40 mins: GOAL GOAL GOAL GOAL... Unbelievable, really. The Gooners' first effort on goal brings them a goal. A lucky bounce frees Denilson in the area, and he does superbly well under pressure to slide the ball between Friedel's legs and give his side the lead, completely against the run of play and in defiance of the gods, physics, logic, rational thought, and Lady Fortune. Aston Villa 0, Arsenal 1

How will Villa respond? By falling apart, it seems. Suddenly they're skittish and give van Persie time to stepover and dribble in the box, but RvP's cross falls to no-one at the back post. Punishment for their profligacy, surely. (And yes, for anyone who's been mad enough to follow all these liveblogs today, that's my favourite word at the moment.)

43 mins: I'm speechless. Agbonlahor beats Almunia to the ball in the air and it speeds goalward, but Sagna overhead-kicks it off the line to save Almunia's bacon. The Gunners live to fight another day!

Song off due to injury, Aaron Ramsey on. He's in for a dogfight in the middle.

HALFTIME: Aston Villa 0, Arsenal 1
A simply outrageous 45 minutes of football. Villa hit the woodwork three times, Sagna clears acrobatically off the line, and Denilson scored against the run of play with the Gunners' only scoring chance. What will Martin O'Neill say at halftime?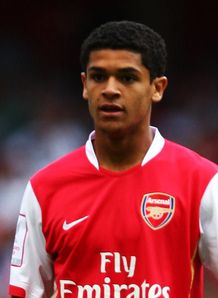 999 times out of 1000, he misses it. Not today, however!



It's set up nicely for the second half. If Villa can recover, they could open up a 6 point gap between them and Arse. If it holds as is, they'll be level once more. Who said the EPL is predictable?

We're back, and O'Neill must wonder if his team can salvage something. That has to hurt; dominate for 44 minutes, yet still a goal down. I reckon it rates next to going 18-0 but ruining it at the last minute, albeit on a much smaller scale.

46 mins: No subs, and some header tennis in midfield. Nasri gets an inch of space on the left wing, but Milner and Petrov harry him and he gives up the goal kick.

Gauloises punts a long clearance, but Ramsey's long pass goes right out for the Villa throw. Holding possession is of the utmost importance for the Goons.

48 mins: Barry's long cross from the right is cleared easily.

GOAL GOAL GOAL GOAL and that, my friends, is how to surpass expectations. Delirium for the away fans, as Abou Diaby nips in behind Knight to finish into the top corner. Unbelievable. It was a half-break at best that caught Villa out, and a wonderfully calm finish. Eboue set him loose after some nice play on the right that left Curtis Davies for dust. Villa haven't done much wrong, and they're 2-0 down. As I said... unbelievable. Aston Villa 0, Arsenal 2

Diaby gets booked for his Lambeau-esque leap into the away fans after scoring, but do you think he cares?

53 mins: Amid the noise and frenzy, how will Villa respond? Agbo wins a throw on the left but it's wasted thanks to Young's cross-to-nowhere. It's going to take something epic to get them back in this one. For all their possession and early pressure, they look positively lost as to how they should respond. It's their turn to chase the ball around for a few minutes.

After my shit-talking on the Gooners, this is a hell of a way to respond to their recent troubles. Just when they're written off, they go and pull this.

55 mins: Should have been three! Diaby does his best Thierry Henry impression in slicing up the middle, passing to Ramsey who has his initial shot blocked, then van Persie gets a sniff and hits the post before his follow-up is deflected out for a corner. Nothing comes of it except for another corner. A third goal would be unlucky for Villa, but really, they should have been 3-0 up before Denilson's cool finish. Funny game, this. The confidence is all with Arsenal.

Villa clear the 2nd corner as far as Ramsey, and his gorgeous chip finds RvP with space to head home. His header goes a mile wide. Still, Aston Villa are falling apart before our very eyes. It's Arsenal chants ringing out around Villa Park. How will O'Neill respond? Missing Laursen was more serious than he expected.

59 mins: Agbonlahor squanders possession in the Arsenal box and the Gunners break again. At the back, Villa are like single-ply toilet paper. Diaby gets blocked from shooting but it comes to Nasri who finds Eboue wide open, and his goal-bound shot is blocked at the last second. Curtis Davies the hero that time. One-way traffic towards Friedel's goal at the moment. Funny what two goals will do to a game.

62 mins: Another Arsenal corner. Villa are confused. I blame tainted half-time oranges. They look more like Tottenham than Top 4.

Agbo gives it up easily again on the right. Villa are a great team when they're winning, but they never look like getting back into a game when they're struggling.

Just as I type this, Sidwell gets free down the right and plants it right on Ashley Young's foot in front of goal, but there's Bacary Sagna to stick a foot in as Young picks his spot. Superb defending, and a glimmer of life for Villa.

64 mins: PENALTY TO VILLA. Deserved too; he gets caught out by Milner's long pass and Agbonlahor has a step on him. Gauloises decides to tackle, but hashes it, and Barry has a chance to pull Villa back into it...

... GOAL GOAL GOAL GOAL for Gareth Barry from the spot, sending Almunia the wrong way. Emphatic finish, and the crowd's awake again. Testing times for Arsenal now. A phenomenal match thus far. Aston Villa 1, Arsenal 2

68 mins: Wenger is still miffed about the penalty, but there's more pressing issues at stake now. 25 minutes to go, and you never want to give Villa way back into the game. Almunia races out to clear a long ball aimed for Gabby down the line.

70 mins: Arsenal look like the Arsenal of the first half all over again. Struggling to maintain possession, and letting Villa come to them. Gabby takes on Sagna down the left, but Bacary wins that round.

Sidenote: I wish Rafa Benitez could buy Sagna. He's having an incredible game thus far, goalline clearance aside.

72 mins: Arsenal throw men forward again, but their attack fizzles out at the top of the box. Villa break with speed, but no dice. Agbo looks like he got a knock in that from-behind tackle on Diaby, and he gets a yellow card on top of it.

Sagna clears under pressure from Luke Young and the Gunners try to slow things down. It doesn't work; Sagna's throw goes right to Young, and when the cross comes in, it misses everyone and falls to Milner, whose shot is blocked at the edge of the box. He crosses in the rebound, and Villa put up a large shout for handball. No dice.

Ashley Young gets loose on the left again, but his cross is met in the middle by Almunia.

76 mins: Simmer down now, fellas, as things get heated in midfield. Diaby is chopped down, and then seconds later, van Persie gets beaten to the ball by Reo-Coker and then tracks him down to take him down. RvP gets a yellow card, the first meaningful thing he's done in 25+ minutes. Reo-Coker gets one too for his pushing and shoving. Bit silly - not a booking at all for either of them.

78 mins: Sagna's weak sidefooted clearance falls to Ashley Young in the box, but his floated cross is intercepted by Almunia. Deep breath for Arsenal... just over 15 minutes left.

80 mins: Eboue creates a problem by ignoring Almunia's call for the ball and trying to clear it himself, but mercifully for him, Gabby fouls on the loose ball and the crisis disappears.

Sagna again with the heroics. Barry gets room to run at the backline, finds Sidwell whose shot is blocked. Ashley Young is lurking at the back post, but Sagna gets across to block the cross. The corner bobbles around in the area, but neither Knight nor Milner can finish. Imagine how dangerous these Villa corners could have been with Laursen in the mix.

Stiliyan Petrov is pissed about not getting a throw-in and gets booked for yelling at the linesman.

Sub for Arsenal: Samir "The Ghost" Nasri on, Gael Clichy on.

84 mins: Young's latest cross is cleared easily. Anyone else get the impression that Villa are running out of ideas? Gaz Baz tries to take a throw too quickly and the ref orders a retake.

Silvestre with another well-timed interception as Gabby's header threatens at the far post. Barry wastes the corner.

86 mins: Ramsey takes a shot from 20 yards, but it's no danger to Friedel.

87 mins: Almunia leaps to collect Barry's lofted cross from the left while under pressure from Sidwell. Sidders isn't happy at the shove from Eboue, but the ref is in quickly to play High School Principal and break up the crowd.

88 mins: Toure clears the long ball after Zat Knight, Villa's new striker, knocked it down. I didn't even realize he was playing. I think Djourou was injured in warm-ups so Toure made the starting XI? Whoops.

Drama in the Arsenal box again as Almunia and Clichy combine to scramble the ball clear from Gabby's feet. We're almost in injury time...

90 mins: 4 mins of added time, and Arsenal are doing a good job killing clock in the corner. Villa break it up, and surge forward with Reo-Coker down the right.

90 mins + 2: GOAL GOAL GOAL GOAL.... as with everything in this game so far, it was utterly unbelievable. Zat Knight, having been moved to striker just minutes before, gets the loose ball off another half-clearance by Arsenal. Sagna gets a toe on it to keep it off Barry's foot, but Knight takes a touch and drills it into the bottom corner despite Toure closing in. Almunia had no chance. Absolutely incredible, although I'll say that on the balance of play, a draw is fair for Villa. Both sides have worked tirelessly today. Martin O'Neill is practically doing cartwheels on the sideline. Aston Villa 2, Arsenal 2

Gaz Baz gets booked fighting for a loose ball in Arsenal's half, and it looks to be the end of a thrilling Boxing Day encounter.

End-to-end stuff in the final 60 seconds, and the ref is primed to bring it to a close.

FULLTIME: Aston Villa 2, Arsenal 2
A brilliant game indeed. Zat Knight's move to center-forward proved brilliant in the end, but Arsenal acquitted themselves admirably in the face of a difficult December. The Gunners' hard luck continues.

Sorry lads. Tons of talking points, but the fact remains: Villa scored twice in the final 25 minutes to rescue the game.

It's been a wonderful day of football (except for that Spartak London game earlier). Let's hope New Year's Day yields more of the same.
Thanks for sticking around -- I think I'm taking a break from the computer for the rest of the day. I think it's earned.