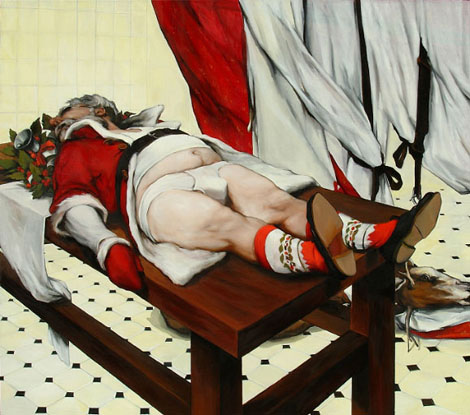 Father Xmas has seen better games than this, clearly.
It's been almost 3 weeks since a Big 4 club won a game in the EPL, but with 2 soft fixtures today for Spartak and Manchester United, surely that will end. It's 0-0 with Man U at the moment, and I'm just getting settled in for Spartak.
Come Boxing Day with me after the jump. This is truly the best day of the year.

LINEUPS:
Chelsea: Cech, Bosingwa, Ivanovic, Alex, Ashley Cole, Ballack, Mikel, Lampard, Joe Cole, Drogba, Anelka.
Subs: Malouda, Ferreira, Deco, Kalou, Cudicini, Mineiro, Belletti.

West Brom: Carson, Zuiverloon, Meite, Olsson, Robinson, Morrison, Koren, Greening, Kim, Brunt, Beattie.
Subs: Kiely, Cech, Barnett, Bednar, Moore, Dorrans, Borja Valero.

Interesting to see Drogba and Anelka playing *gasp* TOGETHER for once... will it last beyond half-time? Ivanovic fills in for England's Moronic John Terry.

3 mins: My feed just woke up in time for GOAL GOAL GOAL GOAL to Spartak, and they don't come much simpler. Deep cross in from the right, and Didier Drogba got free of his marker to head back across Carson into the corner. Expect plenty more goals. Spartak London 1, West Brom 0

8 mins: There's a predictability about the early going: West Brom defending from the edge of the 18-yard box, and Spartak merely passing it around until an opening appears. The Baggies don't have much promise going forward, besides an early shot from Chris Brunt, but this could easily be a cricket score by full-time.

10 mins: Lampard tries his luck from fully 40 yards via the free-kick, and it does reach Carson, to my surprise. The Baggies goalie smothers it like a problem child and play resumes.

13 mins: The tempo has slowed somewhat, as Spartak are playing like lions facing wounded prey. They're pawing with it at the moment, biding their time, prolonging the Baggies' misery as they slowly, methodically look for ways to break through. West Brom are loving the long ball forward but can't seem to master the art of staying onside once the ball's in flight.

16 mins: Whoa, almost spoke too soon. Ivanovic lets Kim in behind him but his shot from a tight angle is easily saved by the Czech traffic cone. Bosingwa gets forward down the right, but his cross drifts all the way out for a throw-in on the opposite side. Not good.

18 mins: The Baggies have decided to let Jose Bosingwa cross at will on the right, as he whips in three or four crosses under little duress. None of them especially threatening, mind you -- he looks more Pennant than all-Pro -- but West Brom seem content to keep the middle crowded and play header tennis all afternoon. Olsson punts it clear for Beattie, but he's offside!

Lampard sneaks into the area unmarked but wastes the opportunity, hacking wide from 15 yards. Ugly shot from an ugly player. Is it just me, or is he wildly overrated?

20 mins: Neat flick by Joe Cole that almost breaks for Lamps through on goal, but a heroic slide from Zuiverloon takes the ball right off his shooting foot and to safety.

22 mins: Ballack lands a shot in the proverbial Row ZZ after Drogba's blocked from goal by Abdoulaye Meite. The flirtation with a 2-0 lead continues.

Elsewhere, Pompey-West Ham is locked up at 1-1, as Collison's scrappy effort cancels out a fine goal by Nadir Belhadj. No score with Stoke/Man U (was anyone else perplexed by Fergie's lineup for this afternoon? Evans in for an injured Rio makes some sense, but Scholes, Fletcher AND Giggs?) or at White Hart Lane between Spurs and Fulham.

25 mins: Joe Cole puts Drogba clean through on Carson, but he's a mile offside. Easy call for the linesman.

Jonathan Greening takes an awful knock in heading clear a Lamps' corner, headbutting the back of Alex' head and is slooooooow to get up. In the meantime, an injury-related switch for West Brom: Abdoulaye Meite off with hamstring knack in conceding that corner, Leon Barnett on.

29 mins: Bosingwa's cross misses everyone on its travels across the 6-yard box. The pressure is building once again... seriously, where is this second goal coming from?!?! Joe Cole shoots weakly from distance, ruining a good passage of play. The crowd is getting restless.

31 mins: A rare attack for the Baggies! It ends with Chris Brunt hoisting another speculative shot high into the crowd.

Lamps sidefoots a Bosingwa cross well wide, but he does find that room between the center backs and their cover. Both Barnett and Olsson were glued to the edge of the 6-yard box, but Lamps couldn't exploit.

This isn't a very good game so far, folks. It has the lazy pace reminiscent of Thanksgiving morning football games, where everyone's still hungover from the night before, and their minds are clearly focused on the starchy excess to follow at dinner-time. Every Spartak chance on goal is rather tame. Can the Baggies exploit? As some boy band once said, "it only takes a minute, girl."

Half-Time for Fergie: Stoke 0, Manchester United 0. Not a good day if you bet heavily on the away win, like I did.

36 mins: That should have been 2-0! Ashley Cole slips around the back and strikes it beautifully, but it pings back off the post and Carson recovers to save Cole's second effort. This is why defenders should practice shooting more. It reminds me immediately of his chance against LFC all those weeks ago, when he should have equalized but buried it in the crowd. Good times. Also, f*ck Ashley Cole.

38 mins: It's raining Bosingwa crosses at Stamford Bridge, but the 8-1-1 formation by the visitors are still keeping them at bay.

39 mins: West Brom win a corner as Bosingwa deflects Brunt's cross out of play. Can they take advantage?

Answer: No.

Having seen snippets of the first half, I think it's safe to say that Manchester United are still suffering from some jetlag, as they look awfully ordinary thus far. Might be in for a shocker there.

42 mins: Ashley Cole again demonstrates why he shouldn't be getting in front of goal, as Bosingwa's teasing cross just eludes his outstretched foot in front of an open goal. Carson was beaten, and Olsson was out of position, but Cole at full stretch still couldn't turn it in. Shame, that.

I am craving half-time right now. Spartak are looking Arsenal-esque in their final pass. Bosingwa puts another ball along the 6-yard box, but Carson intercepts this one and the crowd groan at another missed opportunity. The Baggies then give them the ball right back by hoofing their clearance out for a throw. Not smart.

45 mins: Joe Cole takes a hand to the face from Koren as they go for the ball, but then he does his best "Willem Defoe in Platoon" impression. Sorry Joe, no free-kicky for you.

45 mins + 1: Bosingwa's 1,283,957th cross of the first half floats into Carson's grasp. Another wasted effort.

45 mins + 2: GOAL GOAL GOAL GOAL, and Lampard looks to have cemented his overrated status with this one. Nice build by Spartak, and Ashley Cole's pass lands in Lamps' path. He slips past one weak challenge and chips over Carson. Spartak London 2, West Brom 0

HALF TIME: Spartak London 2, West Brom 0
A 15 minute break never looked so sweet. Not particularly thrilling football at the moment. Both teams could be forgiven for looking like the grass is covered in molasses.

Elsewhere, Defoe misses a penalty to give Pompey the lead. Lucas Neill fouled Crouchie, and Defoe dragged his effort wide of the post. Could be a contender for the next volume of "Worst Penalty Misses Ever". Not good for someone who wishes to play for England, and really, not good for anyone who plays football professionally.

46 mins: And we're back. Stoke had a wonderful chance to take the lead just a minute ago. Good for them.

Sub for Spartak at half-time: Belletti on, Bosingwa off. I had no idea crossing the ball so many times could result in injury, or maybe Big Phil was sick at seeing his attempts always end up miles from goal.

50 mins: Robert Koren breaks the sleepy monotony by firing wide from 20 yards. Still, it woke me up temporarily.

51 mins: Belletti demonstrates his wastefulness in front of goal by trying the cheeky chip from the edge of the box. It sails high and wide, hardly vindication for his half-time entrance. All the time in the world to actually shoot and he pulls that out instead.

55 mins: This is dire to watch. Koren and Kim are finding some room down the right, and Alex gives away a corner. If the Baggies would like to make this competitive, now would be a good time.

Brunt's effort is cleared with ease at the near-post, but from the rebound, he gets a chance to strike. Dipping, curving, powerful shot... right into Cech's hands. The agony continues.

58 mins: Lampard is through on goal again thanks to Drogba's pass, but he tries the cheeky chip and Carson's unimpressed.

For the 10am games, I'm not sure which will end up liveblogged. Of course I'd love it to be LFC, but it all depends on which dodgy Southeast Asian video feed I can find. Of course, follow along any other fixtures or games in the comments. Once this one's over, we'll leap to a new post, and then leap again at noon for the Villa/Arse marquee clash.

60 mins: The malaise is interrupted temporarily by a West Brom substitution: Luke Moore on (hero last weekend against Citeh), Craig "Did I Even Touch The Ball Today?" Beattie comes off. His most meaningful contribution today by far.

62 mins: It's Drogba's turn to be profligate, shanking his shot wide from 12 yards. Florent Malouda prepares to enter the fray. He and Solomon Kalou are equally useless, and I love seeing them flounder. At the very least we should be able to glean some comedy from the final half-hour, right?

Drama at Stoke as Andy Wilkinson attempts limb-removal on Cristiano, earning himself the most obvious 2nd yellow card in history. Off he goes, leaving his team to struggle out the final 10-15 minutes a man down. Still 0-0 there.

65 mins: Carson saves well from Drogba twice as his defenders sleep around him. Should have been 3-0 there.

That's the end of Didier too, as Scolari seems to think his formation must change to protect a 2-0 lead; Drogba off, Malouda on.

Early team news from Anfield suggests we were the victim of a cruel, and awfully early, April Fool's Joke: no Torres anywhere near the 18 to face Bolton today, as Keane will forage alone up-front once again and Carragher ends up at right-back for Boxing Day.

68 mins: Luke Moore gets a sniff at the other end, but Alex closes him down quickly and the danger subsides.

Sub for the Baggies: Kim Do-Heon off (he's been half-decent today), Roman Bednar on.

Man United finally take the lead despite playing like absolute pants today, and saving my betting day in the process. Carlos Tevez is the scorer, and hopefully his goal will get him a game or two in the starting XI. Elsewhere, West Ham take the lead late at Fratton Park' the hero is Carlton Cole. "Hero" and "Carlton Cole" are not things you see together very often. Savour the flavour, Sir Carlton.

72 mins: To prove to you all that I'm still watching this drivel, Joe Cole shoots three miles wide despite having time and space to pick his spot. It's petering out to a snooze at the moment. The crowd is rather quiet. I reckon washing Xmas dinner dishes would prove more exciting and enjoyable at this point.

Ballack gets a yellow for punching Chris Brunt in the face. I thought fist-to-face contact was a red card, no?

75 mins: A rare West Brom raid into the Spartak half dissolves, and at this point, I feel like I deserve a medal for stomaching this one. Send all medals to: UF Towers c/o Kinsale Tavern, New York, NY.

76 mins: Ivanovic whips in a decent corner but Ballack's header is no trouble for the defense. Alex gets on the end of a second cross, but it's well wide of Carson and the goal. Still 2-0.

James Morrison does well to dispossess Joe Cole on the right, and the Baggies counter well as Chris Brunt wins a corner. Please, pull a goal back, just to make this watchable!!!

Scolari makes his final substitution before the kick is taken: Deco on (what's happened to him since September?), Joe Cole off.

Paul Robinson has a crack at goal following Ballack's weak clearance, but Alex throws himself in the way and Cech is spared the work.

87 mins: A simply dire last 10 minutes, so I didn't bother typing. After all, to paraphase some ancient Zen koan, how does one describe nothingness?

West Ham score their 4th, and it's Bellamy again. So is everyone sold on the fact that he's going to White Hart Lane in a week or two?

3 minutes of stoppage time. Heaven help us. I can only watch so much more of this disjointed, uninspiring football. If I squinted, I'd swear I was watching Serie A.

Spurs and Fulham are doing their best to discourage people from supporting them, as the clock ticks down on an awful 0-0.

90 mins + 2: Belletti wins a late corner after a nice run down the right. The wonderfully-named Gianni Zuiverloon heads it clear, and Deco fouls in the race for the loose ball. That's it, surely.

FULL TIME: Chelsea 2, West Brom 0
Thank the lord that's over. Join me at the next liveblog, won't you?