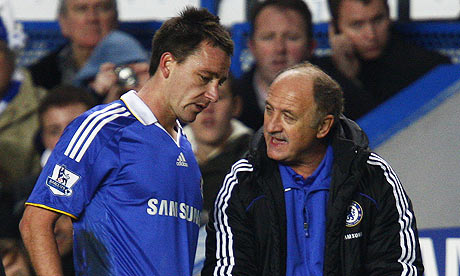 Just remember John, if we get a penalty tonight, leave it for someone else. Got it?
Ah what the heck, let's do this. Spartak have won their first eight away games this season, tied with Spurs from 40+ years ago, and a win tonight would give them the record all to their greedy little soulless selves. Can they get it done at Goodison, a place where many decent teams get unstuck?
Does Tim Cahill have another injury-time header in him?
Bear with me, as this is a difficult undertaking: it's truly a case of lesser of two evils tonight.
Won't you come Toffee with me after the jump?

Lineups:
Everton: Howard, Hibbert, Yobo, Jagielka, Lescott, Neville, Osman, Arteta, Fellaini, Pienaar, Cahill.
Subs: Nash, Baines, Van der Meyde, Rodwell, Jutkiewicz, Gosling, Kissock.

Spartak London: Cech, Bosingwa, Alex, Terry, Ashley Cole, Mikel, Joe Cole, Ballack, Lampard, Deco, Anelka.
Subs: Cudicini, Ivanovic, Drogba, Malouda, Bridge, Kalou, Belletti.

Once again, Everton have no actual striker on the pitch, and their subs bench would give Wikipedia nightmares. If you know who Gosling or Kissock are (besides perfectly good names for a new piano-driven indie band), then bully for you.

Meanwhile, for Spartak, Big Phil has continued to keep Anelka and Drogba separated, like the unstable elements that they are.

2 mins: Shaky start for Everton, as Bosingwa's deep cross from the right floats over Hibbert and gives Ashley Cole a great opportunity. Cole volleys it and forces a difficult save from Howard. They then waste the corner.

This is Spartak's to lose, honestly. They're playing a team that hasn't won at home yet in the league and has no healthy strikers. If those aren't helpful, I don't know what is.

7 mins: Scrappy in the midfield, just how Everton would like it. The only chance they've got is to double-team whoever's on the ball and get a leg in. These Spartak lads don't like being knocked around.

Neville tests Cech from 25 yards, driving a low shot that the helmeted traffic cone smothers easily.

10 mins: Good chance for Everton. Arteta finds Pienaar on the right, and his lofted cross to Cahill at the back post ends up in Cech's arms. He tried heading back across goal, but no-one was there. That'll happen when you have no-one who knows how to play striker.

12 mins: Another good opening for the Toffees, again via the air. Some neat interplay down the right yields a half-decent cross, but Fellaini can only head straight to Cech. Encouraging odds for an Everton goal at the moment.

15 mins: Chelsea's passing from left-to-right is very nice, but they're not finding much room moving forward.

An errant pass from Lampard ends up with Tim Howard. The home side are showing much more enterprise going forward. Lescott has a jaunt down the left, of all people, and wins a corner off Bosingwa. Arteta to take...

... and nothing.

18 mins: Nervy for Everton, as Joe Cole's cross meets Alex's head and falls to Anelka, but he's narrowly offside.

20 mins: Spartak are beginning to wake up. Some lovely passing frees Lampard at the top of the box, and his shot thumps off Jagielka's head and over the bar. Never mind -- Anelka handled it in the build-up.

23 mins: The gaps are appearing in Everton's rearguard as Spartak press the tempo down either wing. It helps their cause that Everton haven't cleared the ball beyond halfway for a couple of minutes now. Fancy footwork from Joe Cole releases Lamps, whose cross is knocked out for a corner, which is headed out for another corner. Deco takes it short and Arteta takes a piece of his ankle for the trouble. Free kick out on the left, Lampard to whip it in.

26 mins: Hello, Everton? Feel free to make this competitive. Their efforts of 15 minutes ago seem like they were months ago.

29 mins: Sorry lads, not much to report at the moment. It's about as dreary as any other Everton game we've seen this season.

31 mins: Phil Neville wastes a long throw deep in Spartak territory, and Spartak counterattack. They respond by dithering in midfield and when they finally do decide to move forward, Joe Cole is offside.

34 mins: Everton create some space in midfield, and Phil Neville responds with an excited, leaden-footed long ball to Fellaini that ends up in the crowd. Dismal stuff at the moment. Deco and Mikel run like headless chickens, Lampard has had no contributions of merit, and now trouble for Spartak...

RED CARD FOR SPARTAK: John Terry is off, and the boos rain down at Goodison (can boos rain down? Discuss). Terry flies in like a maniac as Leon Osman controls the ball. He flies off his feet, studs up, and takes out Osman's foot. Phil Dowd fumbles in his pocket for the red and waves it like a peacock displaying his plumage. Terry is speechless, which tells the whole story really. Dangerous play, Osman hobbles for a while, and Spartak are without their captain and central defender.

38 mins: Cahill finds the book for a hand-to-face rake on poor Michael Ballack as the two challenge for a header. More sendings-off in this one? Quite probably.

So... 10 men and away from home? Will they play for the point now?

40 mins: It's in danger of boiling over at Goodison as both teams are tackling later and later. Plan of attack for Everton will be to ping crosses in from both sides to test out Alex.

42 mins: Surprising to no-one, all the action is down at Spartak's end as Hibbert and Pienaar are trying to bomb down the right wing every chance they get. As the pressure mounts, Alex bundles Cahill down and wins possession, but Dowd gives a free-kick to Everton, 20 yards out and bang in front of goal. Arteta will fancy this. Meanwhile, Lamps shows his appreciation for the Respect The Ref initiative and gives Dowd some lip service, receiving a yellow card for his choice of words. Dissent -- look it up, folks. Ashley Cole picks up a yellow seconds later for the exact same thing. Hilarious, really. John Terry's absence has rattled the visitors. They could end up with 8 men by the end of full-time.

Arteta's free-kick hits the wall, and falls to Yobo who volleys into Cech's stomach. Good low save by Cech, and Spartak breathe again. They're in no rush to attack. Half-time will be a refuge for their tempers.

2 mins of stoppage time.

Half Time: Everton 0, Spartak London 0
The rest of the first half passes (sadly) without incident, but the home side will fancy their chances after the break. Fellaini, Cahill, and Pienaar look far more enterprising than Deco, Ballack and Lampard.

Subs for Chelsea: Joe Cole and Anelka off, Ivanovic and Drogba on. 4-4-1 from hereon out.

48 mins: Mikel gets a half-chance, firing wide from 20 yards. You get the feeling there won't be many of those chances in the 2nd half.

52 mins: Hibbert puts a glorious cross on Fellaini's head, and he heads right at goal. Good pressure from Everton at the moment! I am surely not the only one who hopes it translates to goals.

55 mins: Lampard whips in a free kick from the right wing that Alex gets to over Lescott, but his powerful effort was always going wide.

Another surge by Everton sparked by Fellaini through the middle - his presence is rather difficult for Mikel to handle - but Phil Neville's cross has no power behind it and Alex hoofs it clear.

60 mins: Another cross for Everton, this time from the left, that Cech rises confidently to steal from Fellaini's fro'd head. Yobo picks up hamstring knack and is replaced by Leighton Baines. Spartak don't look too terrible on the counter as Drogba is used to creating his own scoring chances, but if goals are coming from anywhere (and believe me, I'm skeptical), you have to fancy it at Cech's end.

Mikel wastes a free-kick, sailing it over Drogba's head for a goal kick. Uninspiring play from Mikel.

64 mins: A couple of corners in quick succession for Everton as they keep asking questions down the wings. Arteta's latest one is cleared but he gets a chance to cross again, and Jagielka's flick is well-blocked. Another cross from Arteta gets a gentle flick from Fellaini (who is becoming a real nuisance in the air) but Cahill can't get on the end. The home crowd is singing loud, now. They feel due for a goal. Do any of you?

68 mins: Spartak win a free kick 20 yards out, and while Phil Dowd struggles to set the wall, Ballack complains a little and becomes the 3rd Spartak player booked for dissent. Hilarious, although this one was unfair. Big Phil can do nothing but laugh in the dugout. When it's not your day, it's just not your day.

72 mins: Patchy play at the moment, as Everton aren't really maximizing their man advantage. Plenty of possession for Spartak at the moment, and they're quite happy to knock it around and kill some time.

Ballack wins a rather lazy corner, and Lamps swings it into Tim Howard's hands.

76 mins: Almost a goal! Very much in the vein of Milner's late winner on Saturday. Hibbert's deep cross takes a huge bounce off Lampard's back (yes, he was ducking out of the way, shielding his face) and almost loops over Cech, but he reacts quickly to palm it over.

Cech then makes another phenomenal reaction save as Lescott's strong header was destined for the top corner, but Petr made it across in the nick of time. Great pressure for Everton now. It's almost enough to make me wish Hibbert played for LFC, as he's actually capable of a good cross from the right.

79 mins: Pienaar wins a free kick 25 out. Arteta fancies this one... his corners have been crap today, but Fellaini and his hair are eager to get another chance.

Arteta takes it short and it fails, but Baines gets it right in the corner and he skids it agonizingly across the 6-yard box. Fellaini backheels it along, and it bobbles just wide of the post. Can Spartak hang on? Cech had no chance with that one.

Ivanovic takes out Cahill in the air and Everton get another chance. Free kick, 25 out, just right of goal. Arteta, Baines and Pienaar huddle over the ball.

81 mins: Arteta lofts it over the bar. 8+ minutes left. Andy Gray thinks Chelsea would take a point right now. Really, would they? I mean technically you're right, but I think they'd be ecstatic about it. I don't even know where to begin. Such salient wisdom from the former Everton man.

83 mins: Spartak threaten, and Drogba snuffs out the chance by shoving Jagielka in the back.

84 mins: GOAL GOAL GOAL GOAL.... well, no. Another of those low, fast crosses along the edge of the 6-yard box, and a melee ensues. Fellaini puts it in, and from the scrum, Pienaar stabs it in through Cech's fingertips. Goodison erupts, but Pienaar is a step offside. Cech takes an awful beating in trying to keep the ball out. I am unsympathetic. Sorry about that, it's still 0-0! Just add another talking point to the list.

86 mins: Play finally restarts, and Drogba fouls immediately. Back down the other end, then. Plenty of stoppage time to follow too, we can expect.

Spartak sub: Wayne Bridge on, Deco off.

90 mins + 1: Just two minutes added, and all that tension of 10 minutes ago appears to be fizzling out.

To reiterate: Spartak down to ten men after 35 minutes, 0-0 at the moment. David Moyes should be a little upset at this. Spartak get a late free-kick in Everton's half, and a chance to snatch it.

Mikel's effort is headed clear, and Dowd blows his whistle.

Full Time: Everton 0, Spartak London 0
To be fair to the bastards, Spartak did battle bravely after losing their captain in the first half. He'll miss the West Brom game for his troubles. Cech limps off after taking a beating, and he was a titan today, keeping everything out.

Of course, this means Liverpool head into Christmas Day at the top of the English Premier League, and I feel obliged to point out that in almost every instance, the league leader at Xmas itself has been the eventual league winner.

Thanks for sticking with me through the mire and afternoon malaise. Now we can all go home!