Which game will we get? The suspense might kill me!



Which feed will be most reliable? Let's liveblog a 10am game together, shall we? Join me after the jump...

The possibilities are:

Liverpool v. Bolton
No Torres! We've been lied to! Seriously though, does Keane have another gorgeous volley in him today?

Man City v. Hull City
Sparky tries again to save his job. Word has it that his Dubai overlords aren't too fond of Christmas spirit.

Middlesbrough v. Everton
Can a team with no strikers beat a team with no defenders?

Sunderland v. Blackburn
Which "New Manager Effect" will reign supreme today?

Wigan v. Newcastle
Bruce v. Kinnear. Boredom v. Ineptitude.

Spin the wheel and let's get lucky. Of course, let's all keep each other informed... get the scores and insights of the other games in the comments if I end up picking the one you didn't want.

And... it's LFC v. Bolton! Hallelujah! And the feed is in English!

LINEUPS:
Liverpool (4-2-3-1): Reina; Carragher, Hyypia, Agger, Insua; Gerrard, Benayoun, Keane, Riera; Kuyt.
Subs: Cavalieri, Babel, Mascherano, Leiva Lucas, Ngog, El Zhar, Darby.

Lucas is replaced, mercifully, and Arbeloa's injury brings the aging Finn into the fray. Carragher's xmas gift is a stint at right-back. Rafa's back in attendance, but up in the box seats after his kidney stone surgery.

Bolton (4-5-1): Jaaskelainen; Steinsson, Cahill, Andrew O'Brien, Samuel; Muamba, Nolan, McCann, Taylor, Gardner, Elmander.
Subs: Al Habsi, Smolarek, Davies, Riga, Shittu, Basham, Obadeyi.

Referee: Alan Wiley (Staffordshire)

Hooray, a 4-5-1 for Bolton! Megson has never picked up a point against Liverpool, so this should be fun. Granted, he's only had 6 attempts, but that's enough to be considered a precedent, right?

Early scores from around the EPL:
Chelsea 2, West Brom 0
Tottenham 0, Fulham 0
Portsmouth 1, West Ham 4
Stoke City 0, Manchester United 1

You'll Never Walk Alone plays over the loudspeakers, and we're just waiting for kick-off. Keep me posted with the other games, won't you? Man City/Hull should give some goals.

1 mins: LFC kick off and attack the Kop in the first half. Liverpool have been a bit crap lately, drawing every game in seemingly forever. With Man U sneaking a lucky win earlier and Chelsea victorious as well, they need to keep pace.

2 mins: Early nerves for the Reds as Elmander gets free down the right. His chip finds Nolan, but instead of shooting, he tries to find Gardner unmarked at the near post and Reina leaps to intercept the cross. If that had made it, Bolton would be up.

Liverpool counter nicely with Kuyt, and McCann puts it out for a corner. Gerrard floats it in, it misses everybody and comes to Riera alone at the edge of the box. He drills it in and Keane's flick-on ends up wide. A bright start for both sides.

5 mins: Liverpool enjoying all the early possession in Bolton's half as they try to unlock Bolton's 10-men-behind-the-ball approach. Riera can't reach Gerrard's long cross-field pass and Bolton get a goal kick.

8 mins: Benayoun gets behind Steinsson out on the right but Wiley reckons he handballed the long pass to bring it under control. Looked like shoulder to me.

10 mins: Riera skips through O'Brien on the left and puts a cross in, from which header tennis ensues. Bolton fail to clear properly and Samuel turns it out for a corner. From Gerrard's delivery, Riera drags a shot wide of the right post after collecting Agger's flick-on. Liverpool are giving it a go early.

13 mins: No way through the 9-0-1, and Bolton hoof it down to Reina. Elmander is an island up front, lost amid the grassy seas to be guarded by Agger and Hyppia. The stage is set for a terrifically boring 0-0.

15 mins: A promising burst by LFC down the left, as Riera and Insua play a neat 1-2 to find Kuyt at the edge of the box, but his leaden foot destroys the momentum. It's a guessing game for Liverpool; how to break down the rigid formation?

16 mins: Kuyt blasts his shot right at Cahill's shins from the top of the box, but much better passing from the home side. Their passing did manage to open up some space, and Bolton thump it down to Reina to clear their lines. If this is honestly Bolton's plan for the next 75 minutes, they will almost certainly lose. The notion of playing "Protect the Fort" for 90 minutes away from home in the EPL is sadly misguided.

18 mins: Lovely stuff from Liverpool. Hyppia's 1-2 on the right frees Benayoun, whose deep cross is turned out for a corner. From the corner, Insua gets a nice volley from the top of the box that forces a sharp save from Jaskelaainen, only for Bolton to cough up another corner. Good pressure at the moment. It means jacksh*t if they can't score.

20 mins: Alonso's beautiful ball in meets Dirk Kuyt's head, and he glazes it just over the bar with the goalie frozen.

22 mins: Robbie Keane's been very much a non-factor thus far. Insua gives it away and Bolton attempt a trade-mark counter-attack with Elmander, but it's snuffed out immediately.

Fabrice Muamba puts in a perfect tackle on Benayoun in the area after Jlloyd Samuel's header dropped nicely for Yossi. The corner is cleared, and then Yossi's deep cross is headed over by Cahill for another corner. PLEASE LIVERPOOL, SCORE A DAMN GOAL ALREADY.

25 mins: Liverpool win their 7th corner as Steinsson is troubled under the long pass to Reira. Alonso swings it in, and under pressure from Kuyt, Cahill concedes corner #8.

GOAL GOAL GOAL GOAL Liverpool, and finally Bolton crack. Albert Riera times his run perfectly to meet Gerrard's outswinger and he guides it with his right foot through Jaskelaainen's hands and into the net. Johan Elmander was a spectator at the front post. Should have done better. Liverpool 1, Bolton 0

28 mins: Andy O'Brien is almost hung out to dry as Muamba's clearance ends up falling into Dirk Kuyt's path. The two tussle, and O'Brien wins a free kick for his efforts.

Jesus, Man City score goals 2 and 3 within 90 seconds. Caicedo has a brace already, and Robinho is manhandling the Hull backline and gets the third for himself after setting up the other two. 3-0 Sparky within half an hour. NOT what I was expecting.

31 mins: The pace is slowing a little, but Liverpool aren't content with just one goal early. That's been their biggest problem of late; they've struggled to take the lead, and struggled even more to expand on it. Lots of neat passing across midfield as they look for another opening. Muamba scythes Keane down from behind and gives away a free-kick. LFC promptly punt it forward, but Kuyt is offside.

Can someone find me video of Robinho's goal and ensuing celebration? Try the usual resources around half-time... thanks for the help!

Ryan Taylor scores his 4th in 4 games against Newcastle to give Wigan the 1-0 lead at home. No score still at 'Boro or Sunderland.

35 mins: Insua and Riera torment poor Gretar Steinsson again down the right, but Insua's cross finds no-one in particular. It's all Liverpool at the moment as Bolton try their hand at defending from the edge of their own area. Very compact formation, very negative. Dirk Kuyt wins a free-kick 30 yards out after catching Gavin McCann in possession and then getting hauled down. Gerrard stands over it...

... he finds Hyppia at the back post, and it falls to Yossi who volleys wide of the far post.

Manchester City score a 4th thanks to Robinho once more, thus confounding bettors everywhere with their woeful, inconsistent team. An away defeat to West Brom one week, a 4-0 lead at Eastlands with Hull in attendance?

38 mins: Agger shoots from miles out but it's a mile wide. I can't remember the last time Bolton got inside the Liverpool half. Keane then breaks and wins yet another corner off Cahill's leg.

Some argy-bargy in the box, and Gerrard gets to re-take the corner. Hyppia uses Cahill as a Jungle Jim and Alan Wiley gives the free-kick to take the pressure off.

41 mins: Jamie Carragher, playing right-back, pops up on the left wing of all places, and fizzes a shot from 30 yards just over the bar. I am forced to pinch myself to check that I did actually see that.

Liverpool are playing brilliantly, but two things to consider:
1. They're only winning 1-0
2. They're playing Bolton

Still, it makes limp performances against Stoke, West Ham and Fulham appear all the more confusing.

43 mins: Holy sh*t, Bolton get forward! Elmander whiffs his volley and meekly appeals for handball against Insua, but it's waved off. Liverpool then surge forward, and Yossi's meandering run/cross wins yet another corner. I think that's corner #11 for the Reds in the first-half. It's been nearly 40 minutes since Nolan's attempt on goal.

Insua volleys again from the edge of the box and coming close. He's starting to look like a good little player.

45 mins + 1: Bolton win a free-kick just inside LFC territory but waste it, and Wiley promptly blows the whistle.

HALFTIME: Liverpool 1, Bolton 0
Seriously, this is about as lop-sided as it gets. Think the '85 Bears in their prime playing against a Pop Warner outfit. LFC with 47,653 corners, but only one goal thanks to Riera's near-post flick. They'll need a couple more goals before I'm convinced.

Insua, Riera, Yossi and Alonso all looking good in the first half. This is mildly encouraging. Keane still looks rather lost up-top, but then again, he's being marked by 8 players at any one time.

Thanks to U75 for finding the Robinho dance party... enjoy it here and wonder just what it was supposed to be. I like the idea of "Special Olympics Speed Skater" as noted in the comments.

And any video of Phil Brown's unique half-time team talk on the pitch in front of the away fans would be greatly appreciated too.

Let's get back to it... for Bolton, a sub! Kevin Davies on, Jlloyd Samuel off. Now no-one can argue that Bolton aren't interested in attacking.

46 mins: Steinsson gets a yellow for his late slide into Xabi Alonso. Bolton shift the formation a bit as Elmander tucks behind Davies with the bald? Mr. Cahill moving to right-midfield.

48 mins: Gretar Steinsson looks for an early bath as he clatters into Albert Riera way off on the left for no apparent reason, and gets a stern talking-to from Wiley. Any more fouls and he's off, it would seem. Best attack down that left if you're LFC, right?

Robbie Keane houdinis himself enough space to whip in a cross under pressure from Cahill and Steinsson (who is inexplicably drawn to the danger of a 2nd yellow), but it's cleared with ease. Bolton attack and win a free-kick for their troubles.

50 mins: The Kevin Davies Effect has jolted Bolton to life as they win their first corner. Cahill puts it right in Reina's hands, and life slowly returns to normal.


Beware this man, dislocated digits or not!



53 mins: Liverpool begin their evolution into aimlessness as the concept of stringing more than 2 passes together in midfield suddenly looks laborious and impossible. I pray to the Boxing Day deities for a second goal that'll put this game to bed.

54 mins: GOAL GOAL GOAL GOAL and wow, am I prescient! Almost right on cue, Gerrard breaks and finds room to run up the middle. Robbie Keane times his run off O'Brien's shoulder to perfection, Stevie finds him, and Keane beats Jaskelaainen at the near post with a wonderful finish. Is this the moment that Robbie turns his season around? Liverpool 2, Bolton 0

56 mins: Agger goes into the book for a two-footed lunge on Johan Elmander in the center circle. Fair call; despite being a 50/50 ball, leaving your feet always puts you in the book. Just ask John Terry.

58 mins: GOAL GOAL GOAL GOAL, and it's liquid football from Liverpool. Reina gathers a free-kick and throws long to Alonso, who sprints from halfway and finds Benayoun out wide. Yossi takes a touch and slides it across the face of goal where Robbie Keane is there to slide it past a hopeless Jaskelaainen. Yep, Keane's back. Liverpool 3, Bolton 0

60 mins: Bolton gamely attack and win a corner, but it amounts to nothing. It's nice to see my Liverpool play dominating football and get the goals they deserve. They'll still be on top heading into the New Year. Lovely stuff, really. Oh, when Fernando comes back, and Keane has rediscovered how to score... (must lie down)

Everton take the lead at the Riverside, and it's our most-hated Cahill, the Antipodean Tim, with the goal. Quite ridiculous that they're on pace to take 7 points from their last 3 games despite not having a single healthy striker on their squad. Toffee bastards.

64 mins: Liverpool swarm like flies at a picnic, passing comfortably and looking for more. Steinsson makes a hash of his clearance and the pressure stays on. Gerrard has a pot-shot from 25 yards and it drags wide of the post. Ah well. It must be nice for him not to be playing saviour for once. Those long-range shots aren't nearly as frustrating when we're winning 3-0.

I think Jussi should get a chance to play in midfield; as Yossi sprints to close him down on a long ball forward, he takes one shimmy to beat Benayoun before casually passing it out to O'Brien. So cool, calm and collected. Shame his outfield players are so damn skittish.

66 mins: Megson makes a double-change: Matthew Taylor and Johan Elmander off, Riga Mustapha and Polish international Ebi Smolarek on. Those names were a nightmare to spell, by the way.

67 mins: The subs make little difference; Liverpool crowd the box as Keane looks for his hat-trick, but Kuyt gets in the way and the two collide, leaving Andy O'Brien a simple clearance. Keane and Kuyt moan for a moment, but realize they're winning 3-0. Did I mention the score was 3-0? It's 3-0.

Sub for Liverpool: Albert Riera off, Nabil El-Zhar off. Good afternoon for the Spaniard, and some much-needed rest ahead of the New Year's fixtures. Let's see what the sub can do; admittedly he's not done much so far this season, albeit with limited opportunity.

Also, if you're vigilant: still no Ryan Babel sighting. Despite the comfortable win, he's being wasted by Benitez at the moment. Would be nice to give him a run out to build some confidence.

71 mins: A deep free-kick is cleared easily by Gerrard and Insua, and Yossi beat the offside trap on the right from the ensuing counter-attack. Nothing came from it, however. Almost 70% of possession for LFC so far today. That's f*cking insane.

Sub for LFC: Gerrard off, Lucas on. Nice to rest your studs with Newcastle just a few days away. Carragher takes the armband. Still no Ryan Babel? C'mon Sammy/Rafa. Give him 15 good minutes at least.

74 mins: The tireless Kuyt earns another corner, and Agger's header is just wide.

76 mins: El-Zhar cuts inside from the left and has a crack at goal, but it's well wide of the near post.

77 mins: Rafa didn't get the memo, as his final sub is used on David Ngog. Dirk Kuyt takes the bench.

It's petering out, and now, the focus will shift to Aston Villa/Arsenal in just under an hour. Honest predictions in the comments, please. I'll liveblog that one as well, so make the jump across around 12.00. That leaves me just enough time to build a leftovers sandwich: two thick slices of bread, cranberry sauce, turkey, stuffing, topped with roasted carrots. Delicious.

Bassong sent off at the JJB, and Amr Zaki converts the penalty to give Wigan a comfy 2-0 cushion with 10 minutes to go. Reports indicate it was a harsh dismissal, as the foul was just outside the box, but hey, can't win 'em all. LFC "target" Emile Heskey won the PK.

81 mins: Gavin McCann catches Xabi five minutes after the ball had gone, and gets a yellow card. Dismal afternoon for Bolton; they won 4 of 5 EPL fixtures in November, but now they've been thumped by Chelsea, Villa and Liverpool since December 6th.

83 mins: Keane almost gets on the end of a Alonso long ball, but O'Brien does well to usher it out of play.

85 mins: Almost a consolation for Bolton as Muamba's angled pass releases Smolarek, but his low shot is inches wide of the post. Reina is still on course for clean sheet #11 of the season, you'll be thrilled to know.

Gary Cahill's injured but won't come off and leave his side down to 10 men (Megson used all his subs 20 minutes ago), so he's moved to the right-wing where he'll jog around for the final 5-6 minutes. McCann's moved to center-back in his absence.

87 mins: Alonso's corner bamboozles Jaskelaainen and is cleared off Benayoun's foot. Jussi punched air and almost got caught out. From the second corner, Hyppia puts it cleanly toward the top corner but O'Brien gets in the way and prevents the 4th goal. LFC still pouring forward in attack. Tons of confidence on display.

Cahill's now playing striker well out on the right, presumably to avoid any contact whatsoever.

88 mins: Andy O'Brien plays Keane on, and Carragher finds him. Steinsson tracks back and times his tackle to perfection, denying him a hat-trick. A wonderful tackle.

4 added minutes. Keane is still looking for his third goal, and it seems like LFC are trying to get it for him. Keane turns provider and forces another fantastic, sprawling tackle from O'Brien to snuff out the danger from Ngog. Poor Bolton.

90 mins + 2: El Zhar is offside on the left wing as Liverpool look to break again.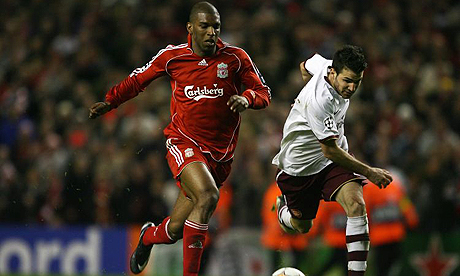 Ryan Babel in a rare "action" shot as he spectates again. Let's hope he can turn it into a positive and write some good raps about the experience.




90 mins + 3: Yossi almost bends one in at the death as Jussi saves well to his left, and then Ngog almost turns it in from the follow-up. Mercifully, the ref blows the whistle.

FULLTIME: Liverpool 3, Bolton 0
A comfortable, convincing win for the home side, their first home win in what seems like months. They will stay top even after Chelsea and Man U win earlier in the day.

So, on to Liveblog #3! Join me in the next thread in 20 mins or so for the big match of the day, Aston Villa v. Arsenal. I need to make that sandwich, and FAST.