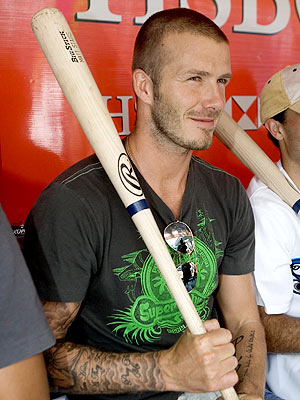 I know I'm going to hate myself for this, but I promise I'll tread carefully. You see, our friend Beckham is going to do some very nice things for some very grateful children; I just hope he shows up this time.


From the release:
This summer 50 young people with lifelong medical conditions will be fulfilling their dreams with a trip to the David Beckham Football Academy in Greenwich, London. Haemophilia Society Chief Executive, Chris James says:

"All the young people are affected by bleeding disorders like haemophilia, which means that their blood doesn't clot properly. They often suffer painful bleeding and miss out on the sports, hobbies and school trips that their friends can do. That's why the Haemophilia Society will be taking the 50 youngsters on the trip of the lifetime between August 11th and 14th 2008. Although most of the young people need regular injections of medication to stop their bleeding, they will train with a team of coaches hand-selected by David Beckham himself!

"On their three-day trip, they will get the chance to know other young people who understand what they go through, learn about how to cope with their lifelong condition, and play football in the world-class facilities of the David Beckham Academy. It's the first time so many young people with bleeding disorders have gone on this kind of trip, which has been made possible with the sponsorship of Bayer HealthCare."
Yes, Beckham's coaching sick kids this summer, presumably once the Galaxy are knocked out of contention for the MLS title.

It's a grand move for Becks, a guy I really hate to speak fondly of, although I hope he turns up unlike an incident last month with a birthday party he was slated to attend; the bastard didn't turn up despite being paid for the privilege of his rather bland company. [This was the link, which now appears to have vanished into the ether, making me look like a slanderous idiot]

I hope the camp goes well, and that they can learn a lot from one of the biggest stars in the game. That being said, I hope he's not teaching them this move:





[Ugh, I need a shower after this one. I feel unclean. Make jokes so I don't have to!]

Below, Bigus' rendering of what the camp might look like: