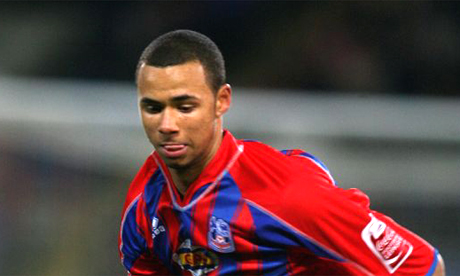 It's a funny old game, well that's the saying at least. Simon Jordan was not laughing yesterday though.
The animated Crystal Palace chairman is still fuming at the tribunal decision to allow John Bostock of his academy to join Spurs for a measly 700,000 pounds. So much so that he is selling up.


Back to Bostock for a moment. That's not bad, right? 700k for a 16-year-old kid?
Well, let's look at this way. You are not a Premiership side and you cannot afford Premiership fees and wages. What do you do? Well, you can either say "sod it" and claim your place in the Blue Square division, getting your thrills sitting on a mini bus to Forest Green, or you can invest in a top-notch academy and find your own future players. Well Mr Jordan did just that, ploughing his own cash into the club. He began rubbing his hands together, dreaming of a home-grown super team.
Cue the evil laughter... easy, right?
Not quite. You see, that heavy laugh was heard all across London and scouts for Tottenham Hotspur came sniffing around. They had good look around and then left, taking one 16-year-old wonder-kid with them.
How good is Bostock? Good enough for Barca! Have a look at this article I found from last year!

John Bostock just couldn't resist the overtures of playing Spurs reserve games at Stevenage Borough's mighty Broadhall Way, oh wait, no, it was probably the money, that and the delusion that he would burst into the Tottenham starting XI anytime before his 21st birthday. Regardless, Master Bostock is a Spurs man... boy.
John Bostock..Look out for him in 2013

The Football League's tribunal decided that 700,000 pounds was a fair price for young master Bostock. Bargain, eh?
But wait a minute? How much did Aaron Ramsey head to Arsenal for? 5 million pounds.
Theo Walcott? 12 million pounds.
Suddenly it looks as if Mr Jordan has been shafted, doesn't it?
The tribunal argued that its previous highest award was 400,000 to Charlton for Jermaine Defoe. What really sticks out here is that Palace rejected 900,000 pounds from Chelsea when Bostock was just 14. Palace then gave him his debut at age 15.
Palace Chairman Simon Jordan

I have never been a fan of Simon Jordan. He struts around Laaaandan Taaaaaahhn fondling his long blonde hair while admiring his fake tan. He speaks when he should be quiet and ALWAYS has something to say.
But I feel for him with this one. It's an absolute disgrace. What kind of message is this sending to other clubs? Don't bother funding academies, because the big teams will come and take the kids anyway. Where does that leave us? With not many young English players, that's where.
In the end, all of this has been too much for Mr Jordan and he has decided to pack up his aviators and march his Gucci loafers elsewhere, and Palace are now for sale. Jordan has had enough. Quite frankly, who can blame him?
Mr Jordan had this to say:
"It's my specific intention to find a buyer this season... I kept my sanity by pumping millions into my academy, feeling the saving grace of my club was finding players who I thought would be chomping at the bit and ready to play in the first team. But that's been taken away from me as well. Bostock was one of the best players my academy has produced in the last 10 years and he has been sold for a packet of crisps."
What else is left to say after that? Well done, the Football League! On Tuesday you all but buried Luton Town and with Bostock you have truly proved what's important to you... and it certainly isn't grass roots football.

I cannot wait to see what they have up their sleeves for tomorrow!

-Bigus.