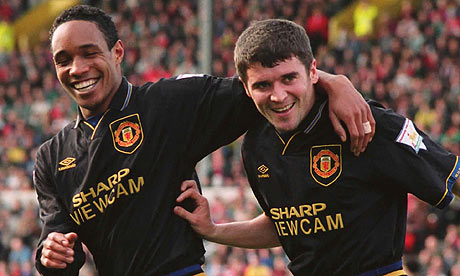 Saturday, Sunday, happy days, win some trophies, happy days, become crap gaffers, happy days
happy days, oh what a day, losing all week for yoooooou
Well well, we're up late again, although the thought of being on the end of a Vinnie Jones Glasgow Kiss (
see below for that gem
) would keep me up all night. I'd be petrified!
We decided to skip the early game (we all know it'll end in a draw anyway) and begin our open thread journey at the beginning: 10am. The slate today promises action from all the Big 4, and the tension is killing me: I cannot wait to see who screws up today! Will it be Rafa? Will Scolari's men fail to crack the resurgent Stupid F*cking Bolton? Will Fergie see another precocious player red-carded and spend the next 7 days in media spin heaven? Will Arsenal drop more points at home?
(All signs point to that last one, btw)
Oh, and don't forget to pour one out yet again for Roy Keane. Poor lad.
Ince thinks it's a conspiracy
because they were good when they were players. I say they're just crap managers. What do you lot think?
So join us after the jump for the fixture list and some comments. Keep 'em clean (unless they're about Phil or Gary Neville; I f*cking hate those two.)

10am kick-offs:
-
Arsenal v Wigan
Blackburn v Liverpool
Bolton v Chelsea
Hull v Middlesbrough
Newcastle v Stoke

12.30pm kick-off:
-
Man Utd v Sunderland