I'd be lying if I said I wasn't already 3 beers in at this early hour. It's soon to be 4, and that's the beauty of this wonderful American holiday. Well, that and all the family stuff.

But on this day, I thought I'd nip out a quick post of things I'm happy about as we take a giant tryptophan rest this afternoon. Or rather, follow this flimsy conceit as a way to cover a few of the morning's headlines to its logical conclusion.

---

I'm thankful that Steven Gerrard didn't rearrange some French faces yesterday, after it was revealed that a Marseille fan threw a cigarette lighter at him while he waited to take a corner. You see how it's done, Didier? Instead of flipping the bird and throwing projectiles back into the crowd (and receiving a ban for your efforts), he simply took the corner and kept on playing. UEFA is investigating, and hopefully they'll find a way to punish the club, or even that entire country, for not having more respect for the mighty $tevie Mbe.

---

I'm thankful that Scolari has some humility. He reckons that if Spartak London don't beat CFR Cluj and make it to the knockout stages, he doesn't deserve his job. A bit of an overreaction, sure, but wouldn't it be nice if some of these self-inflicted threats actually came true somewhere down the line?

---

I am thankful that Arsenal is in such turmoil at the moment. Even though I'm sick of the word by this point, schadenfreude really is a wonderful feeling. Gael Clichy's come out and hosed Gallas much like Gallas hosed the entire team last weekend, and despite their shaky 1-0 win against Dynamo on Tuesday, they're coming unstuck.

---

I'm thankful that Fergie is such a prick, because it gives me a reason to pay attention on those slow media days. It seems like whenever the headline mill is running low, SAF is there to spark it back up with a soundbite or two. The rivalry between Liverpool and Manchester United is nowhere near what it used to be, but Fergie does his best to keep it going, and I appreciate that. Sometimes, I forget why I hate the Devils so much, until that soused Scot gives me a reminder.

---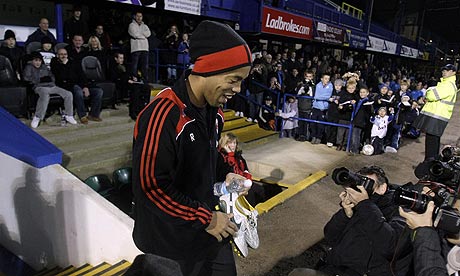 Ronaldinho at Fratton Park. Enjoy it while it lasts, because you'll never see it again.



I'm thankful for David James. Really, you are going to give AC Milan a massive shock tonight. You're also right in just what the shock will be; a visit to your quaint, underwhelming south coast port town. The result on the pitch certainly won't be shocking to anyone.

---

I'm thankful for Kaka and Man City stirring up the nerves of every team in the EPL just when things appeared to be settling down. While I'm not the biggest fan of the sudden financial windfall at Eastlands, as well as their burning desire to spend $50 million on any superstar available, I like that every now and then, we get a media-aided reminder of their new-found influence.

It's also nice that the Brazilian midfielder would honestly love to play in England some day. But really, Kaka at Manchester City? Are you shitting me? I thought that'd only be possible in FIFA '09.

(Speaking of FIFA '09, I felt like running a quick season with Arsenal. I sold Adebayor to Celtic for $28 million, Van Persie to Newcastle for $42 million, Bendtner to Fulham and Gallas to Bordeaux, and used that money to buy Freddy Adu, Jozy Altidore, Bastian Schweinsteiger and Mario Balotelli from Inter Milan. We played some good football but finished 3rd in the league. Go figure.)

---

I'm thankful for the Football League and their efforts to preserve the development of English players, as they're voting next month on a "home-grown players quota" that would require them to include at least four players "registered domestically for a minimum of three seasons prior to their 21st birthday" in their matchday squads. It's a noble effort, but really, when all the big clubs poach the young stars to dwindle in their reserves, it won't matter much.

---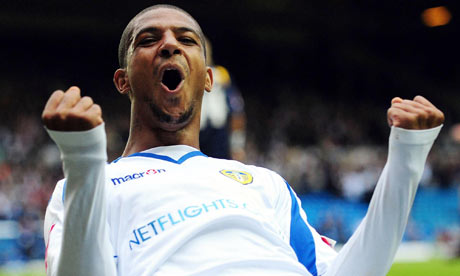 I'm thankful for Leeds United. Mighty Leeds! They used to be the bosses of England, in the days of Woodgate, Rio Ferdinand, Mark Viduka, and Jimmy-Floyd Hasselbaink. That five-year period saw them reach the UEFA Cup semi-final, the Champions League semi-final, and then fall foul of crippling loans taken out in expectation of future success that never quite materialized.

You know the deal from there: they fell into administration, were docked 25 points, relegated down to League One and never looked like turning it around.

Well, Christmas has come early at Elland Road, as they announced a $8.5 million profit (4.5 million pounds) for the 14-month period ending June 30 this year and their future looks bright. Brilliant! They are the ultimate cautionary tale in how not to run a soccer club in the modern era, and it looks like they're turning things around. I couldn't be happier for them.

---

And finally, predictably, I'm thankful for the growth and quality of Unprofessional Foul over the last 11 months. Our daily email threads are a constant source of entertainment, and I look forward to our next big meeting. I'm also eternally thankful for all our readers and commenters, who keep the place going when we're clearly not. May the good times roll and continue!

(Oh, and yes, please keep voting on the US Best Soccer Blog of 2008. In case you hadn't heard, we're in the running for that one.)

---

Alright, it's time for beer #5 (yes, it took me so long to write this that I'm through another full one). Bigus might be dropping by with a UEFA Cup liveblog this afternoon, so keep posted for that as well.

What are you guys thankful for?