It is hard to be a referee. Or at least, I imagine it to be. You're not very popular, you don't get paid very well, and the only way anyone judges you to have done a good job is if you're invisible and not heard from. There's death threats occasionally, you get called "wanker" more times than anyone else on earth (despite whether your masturbatory habits are that regular or not), and you catch shit from players, fans, and coaches every single day.

Sometimes though, you'll get rewarded with a big, high-profile game between big clubs, and you'll be seen all over the world in your black shirt clutching your little whistle. Prestigious, right?

Well, it is until you get something wrong, cause a big appeal to the FA where your ruling is overturned, and then you get dumped down to League Two for a couple of weeks.

Yep, that's what happened to Mark Halsey. Poor bastard. The wrath of Chelsea is clearly a lot stronger than I ever imagined.



From the Daily Mail, whose insistence on typos in their online content never ceases to amaze me:
Halsey dismissed Terry for hauling down Jo in the Blues' 3-1 win at Manchester City, but the England captain successfully appeal against the red card he picked up at Manchester City.

Halsey deemed it a serious foul play and showed Terry the red card, but Chelsea protested, and yesterday submitted a claim for wrongful dismissal.

Jo still had a long way to go to goal when the foul came in from Terry, whose fellow defender Ricardo Carvalho was in close attendance.

An independent regulatory commission heard the appeal today and the FA revealed they upheld Chelsea's claim, meaning England captain Terry must no longer serve a three-match ban.
Independent, eh? That means Roman can probably get to 'em. Some new velvet cossacks, or a Mercedez Benz knocked off from a car park in St. Petersburg.

Either way, as the article goes on to mention, Terry's reinstatement is rather fortunate for the Blues, as they play Manchester United this weekend, and his suspension would carry through their Carling Cup tie against Pompey on the 24th, and the following league game against Stoke.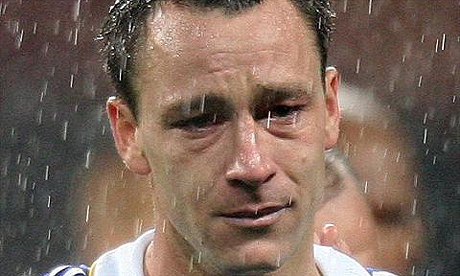 Poor lad. He was gutted at the thought of not playing against Jermain Defoe.



Halsey's punishment for royally messing things up and forcing these commissions in the first place is a prime gig this weekend: Chester vs. Shrewsbury.

It's good to see some accountability there, especially as the straight red was dubious from the start, but it makes me wonder what'll happen to Ed Hochuli, whose transgression was far more influential. San Diego lost, and he received bad grades that might stop him working in the playoffs. Could they send him to ref 1-AAA college football instead?

Either way, there are two morals to the story: be a good referee, and never, ever, ever get on the wrong side of John Terry.