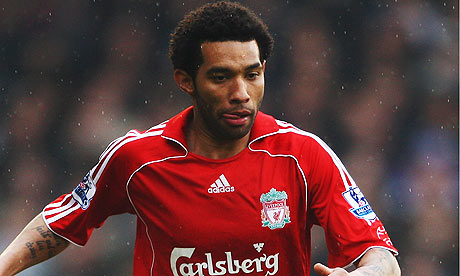 Remember those crazy days last season when Jermaine Pennant was apparently receiving offers and overtures from AC Milan?

Well, things are a little less crazy now, but the former Liverpool winger failure and Pompey paycheck-casher has somehow engineered a move to La Liga and Real Zaragoza, where he'll surely do his best to refute Cristiano Ronaldo's theory that Spain is the new power seat.

It's a wonderful, sunny new place for Pennant to underachieve, and the worst of it is that thanks to Spain's lazy tax laws, the son-of-a-bitch will be rolling in the money.

I didn't know if it was possible to hate him more, but learning this showed me otherwise!

To break it down for a second:
It is the detail of Pennant's deal at Zaragoza with regard to taxes that will have some English players and agents salivating. His three-year contract is worth £6.24m net, with the Spanish club effectively paying his taxes. They have been helped to do this by top-bracket tax perks or what has become informally known in Spain as the "Beckham law".

In an attempt to encourage overseas businesses to place their leading executives in Spain, the government introduced legislation to cut taxes in the top bracket to 23% for the first five years. Real Madrid, a club synonymous with galáctico signings such as Beckham, then argued successfully that leading overseas footballers ought to enjoy the same privilege.
As the article goes on to explain, not only will Zaragoza be paying the taxes on his paycheck every week (somewhere in the region of 10,000 pounds), but he'll take home a minimum of 40 grand a week with no strings, AND Zaragoza even threw in a car and a villa to his deal, meaning that the awful, horrendous, absolutely painfully useless right-winger is sitting prettier than most.

Quoth the inept bastard: "I wanted to come to Spain and I had offers from important teams in Europe but I joined Real Zaragoza. I really want to get started and do well in the league."

I'm sure you do, Jermaine. I mean, three goals in three-and-a-half seasons at Anfield shows just how firmly you believe in "getting started".

Perhaps more troubling for the EPL is this tax situation outlined above, something that could potentially see a ton of superstars leaving England in order to keep more of their money (England currently imposes a 50% tax rate for those people earning more than 150k per year), and a country like Spain, already far advanced in the Totty, Weather and Cuisine stakes, would make for quite a soft, sexy landing should others decide to defect.

Most galling of all is that it's Jermaine Pennant being the one to expose this glorious, totally unfair loophole. If Jermaine Pennant can do it, why not Crouchaldinho, or Darren Bent, or Kenwyne Jones, or Joey Barton, or Florent Malouda, or David Bentley?

(pause for thought)

.... actually, it would be kinda nice to get rid of all that EPL deadweight. And if Spain theoretically took 'em all, C-Ron would be eating his words about which league is best.

Until that happens, focus your hate rays on Pennant, and all that filthy lucre, and the free sports car, and the luxury villa.

May he get immediately sold to FC Twente, or Brann Bergen, or some club in the Faroe Islands.