Anyone remember this? Well, our winner was obvious a couple of months ago, and UF reader Joep Smeets managed to hang on top and win the whole thing. As our "prize", we offered him a post on anything he wanted, and when offered to him, he told me he wanted to wait until late August to claim his reward.

Why? Because the Dutch Eredivisie kicks off this weekend, and he's just the man to handicap it and break it down for us ignoramuseseses.

This makes me happy, because I had no idea where to begin. I know Ajax, they're good, PSV, and that's about it. Feyenoord? Is that one?

Anyway, Joep has all the answers for us, so educate yourselves after the jump.



One of the leagues kicking off this weekend is the Dutch league. The first though this may conjure in some of you is probably "do the Dutch still have a league?" and the answer to that question is "more or less". The Eredivisie, as it is called, has spent the last decade slipping gradually but steadily into irrelevancy, to the point where Arsenal can comfortably field their Carling Cup starting eleven and still brush off the second best team our country had to offer with ridiculous ease.

But yes, even mediocre leagues have to start at some point, and Friday night is the Eredivisie's turn. And because the nice gentlemen at Unprofessional Foul know all of you are dying for an in-depth analysis of Europe's seventh best league - or because they owe me a guest post because I crushed all of you in the European Cup Pick'em - here is a preview.

The Contenders

The Dutch league has been dominated for years by a traditional top three, consisting of Ajax (remember them?), PSV and Feyenoord, however, in the past decade, Feyenoord has been managed more poorly than Enron and as a result, hardly makes any more pretensions on the Dutch title than you or me.

That leaves us with Ajax and PSV, the latter of which have been champions four years straight. During this period, PSV has been hollowed out each and every year, losing quality players to quality teams and to Spurs. Despite of their knack for bringing in proper replacements, losing Gomes and Farfan means they have now lost the last two players who played for the team that made CL semi's a few years ago.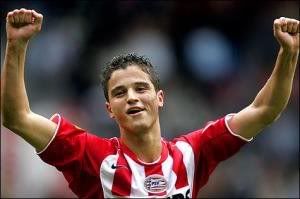 PSV's player to watch: Ibrahim Affelay. This will be the year he finally outgrows the Dutch league. Honorable mention to Dirk Marcellis, who played his heart out at Anfield last year and got a standing ovation for his effort when he was sent off. A young central defender who played very well at the Olympics and is getting considered for the senior national side.

Even with PSV losing a little bit of quality every year, Ajax has not been able to catch up. The past four seasons have seen more turmoil in Amsterdam than in your average war zone, and about as many heads have rolled. Each season starts with the same high expectations (PSV has got to be the only team that has won four championships in a row while not being considered favorites for any of those seasons), merited by an influx of new players that are considered a lock to get the job done. So far, none of them have, but there's no question Ajax can field more attacking firepower than any other team in the league.

Ajax's player to watch: Klaas Jan Huntelaar, obviously. He's the centerpiece of an attack that features three quick and goal-oriented players around him in Luis Suarez, Miralem Suljemani and Civantich. Ajax's defense might not be very stable but this lot could outscore any team in the league.

The Hopefuls

Behind PSV and Ajax there is a sizeable group of pretenders to the Dutch crown, led by SC Heerenveen and FC Twente, who will both feature in the UEFA Cup this season. The only two teams in Holland with a foreign coach are slowly but steadily attempting to structurally fill the hole in the top three that Feyenoord left behind.

Heerenveen, especially, has a very capable scouting team. You only have to look at the strikers they have fielded over the past year, which include Huntelaar, Afonso Alves, Samaras and van Nistelrooy. Twente has taken a big gamble by hiring Second Choice Steve, who is about as familiar with the Dutch league as any of you are.

Others in this group include Feyenoord and AZ, the latter of which made a very strong attempt at the title two years ago, only to fail miserably in the last season.

Players to watch




Michael Bradley (SC Heerenveen) Bradley is no unknown to most of you, probably, and was one of the better midfielders of the league last season. From what I gather, he gets forward more for Heerenveen than he does for the US, which is his strong point. [Ed. Note: there are rumours brewing of him moving to Middlesbrough]

Douglas (FC Twente) a strong Brazilian defender that messed up against Arsenal. Young, though, and he has the top teams in Holland taking looks at him, which means the Premier League will most likely not be far behind. He shut down Huntelaar in the playoffs for the Champions League qualification ticket, which is no small feat.




Jonathan de Guzman (Feyenoord) Canadian by birth, Dutch by footballing passport, he has been one of the few bright spots for Feyenoord. He is a very complete young midfielder that has been attracting interest from England.

Stijn Schaars (AZ) is a very solid young midfielder who captained the European Cup winning u-21 sides. He has been out injured for a long time and AZ hurt without him. If he regains his pre-injury form, he will be considered for the national team and difficult for AZ to keep in Alkmaar for much longer.

European Competitions

After Arsenal's drubbing of Twente, PSV will be the only Dutch team in the Champions League. They're grouped with Liverpool, Marseille and Atletico Madrid, which means it will take a small miracle for them to go through.

In the UEFA Cup, there is a sizeable Dutch contingent, spearheaded by an improved Ajax-side, Heerenveen, Twente, Feyenoord and NEC, a small team who played an out of this world second season half and subsequently lost its three best players and hasn't found any decent replacements so far. Ajax, with Huntelaar up front and Stekelenburg in goal could make a deep run, while the rest would be lucky to survive the group stage except for maybe Heerenveen.

We'll, there you have it. Another season full of poor defending and bright young talents is upon us. The football might be poor, but the Dutch league guarantees at least a few players each year who will make the step to the big times at the end of the season, so I suggest you all keep an eye on it!