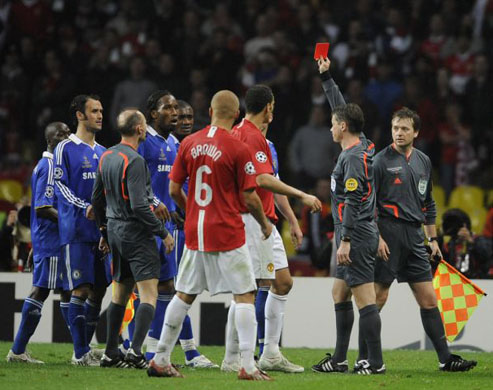 Amid all the storylines generated yesterday -- Terry's miss, Anelka's miss, Ronaldo's relative disappearance in yet another big game -- by far the most interesting talking point involves everyone's favourite petulant Ivorian striker, Didier Drogba.
While the game took place around him, leaving him largely as a bystander [except for a sublime shot that rattled the bar in the 80th minute or so], Drogba was instrumental in the match's most important moment. His slap on Vidic late into the waning minutes of extra time spoke louder than any of his goals this season. On the world's biggest stage, Didier lost the plot. And it might well be the last time he gets to do that in a Chelsea shirt.
So why am I picking on him this morning? I should be happy that he's the scapegoat for an unlucky defeat, shouldn't I? Well, I thought I'd try and defend the miserable cunt, because if we're honest, if he was still on the pitch, John Terry wouldn't need to take any penalties, would he?


Drogba is a walking contradiction. He is capable of tearing teams apart seemingly at will, and yet, when things don't go his way, he turns in awful performances when his club needs him most. It took him an hour to warm up to the conditions, but he was still ineffective against the serene pairing of Vidic and Ferdinand. The one inch of space he did get, and he almost changed the game with a phenomenal shot that rattled the post and set the hearts of Man United fans racing.
It came in the thick of wave after wave of Chelsea attacks, in a second half where they laid siege to Van Der Sar's goal and thoroughly deserved to win. Indeed, amid the small coterie of rabid alcoholics with whom I watched the match, we all thought the same. This is Chelsea's moment. They're gonna steal this game, smash n' grab.
Lampard rattled the bar, Terry made an unbelievable reflex header to divert Giggs' shot just enough that it went wide, and they had the belief to push on and snatch the win.
And yet, in the 115th minute, a seemingly benign foul and confrontation between Tevez and Terry turned into a scrum, and as Vidic pushed Didier away, out came the slap right in front of the referee.

This was it. Drogba's moment of madness, while not leading any of us to believe that Man U would push on and score the winner in the remaining 5 minutes, was crucial. It was the difference. Without their second-best penalty-taker, their superstar do-no-wrong striker, they'd need someone to make up the numbers. Grant did his best, but it was not to be.
With the last-minute changes on both sides as they brought on penalty specialists Belletti and Anderson, Chelsea's chart could have looked like this:

Ballack
Belletti
Lampard
A. Cole
Drogba

They might have moved Drogba up a couple of spots, but after Ronaldo predictably missed his penalty [which we all predicted while watching the match], you're on Easy Street. Cole and Drogba left to shoot, and there's no danger of your best goalscorer missing the winner, is there?
Of course, this is mere conjecture, and Terry did his best by even having the balls to step up and take the reins, but you have to wonder how different it might have been had Didier not lashed out.
In fact, assistant coach Hank Ten Cate even went so far as to spell this out for the hungry media, thus magnifying the issue further.

So, how can this be justified? It really can't, but I'm going to try.
Drogba is an individual. He's a nation without a state. He always has been. Derided in the past for not being more of a team player, he is the consummate professional: show up, do the job, get rewarded for it, and move on.
He's made no effort to mask the desire to leave Stamford Bridge in the near future, and while it would be crass and absurd to even hint at the slap being an act of parting sabotage, it fits with the player.
It fits with the man.
It fits with the actions and expectations we've always had for Didier, both on and off the pitch.
It shouldn't come as a surprise to anyone, and yet we're still all rather lost for words.

Just three weeks ago, Drogba and Vidic had a collision in the match on April 26, in which Vidic lost a tooth and needed stitches. Two years before that, in November 2006, Drogba was accused of deliberately elbowing Vidic as they went up for a header, and despite video replays that suggested premeditation, the incident was reviewed and quickly forgotten.
And then, last night, the two fought for 115 minutes, fouling each other and scrapping for every inch of territory. An innocuous argument between other players gave them an opportunity to square up yet again, and Didier couldn't resist. Call it a moment of blind rage, call it playful, call it a sign of respect [did Drogba really think a brute like Vidic couldn't take a gentle tap?], call it what you will.
I feel bad for Drogba, albeit in a very different way than I feel sympathy for John Terry, the physical embodiment of Chelsea FC. Didier never recovered from the loss of Mourinho, an obvious mentor and role model to someone who never really had that. Always slighted, always overlooked, always underappreciated, Didier didn't want to play at Chelsea anymore, simple as that. His slap makes for a very photogenic farewell.
In that situation, under that scrutiny, and with that well of frustration having failed to get the job done to that point, I might well have done the same thing. I think if we're honest, a lot of us would. After all, it's not every day you get to find brief moments of satisfaction like that, no matter what the context. A difficult evening released in one flick of the wrist to the face of the man responsible for all your toils. The surroundings dissolve as you enjoy the moment, and then reality kicks in. The impact, the consequences, the lack of thought for those around you.
Anyone ever been bullied at school? It sucks. It's decidedly not fun. My school bully was a big kid with red hair. He teased me for four years, and then I threw a desk at him. You know the ones: the old-school desks that have a storage bin under the tabletop, made of heavy fucking wood, sometimes with a chair attached? I lost my temper, gained some freak Hulk strength, and broke his fucking leg. Felt great until the adrenaline wore off.
Then, I was faced with a long school suspension and his hospital bills to pay.
Decidedly not smart.
For Didier, I imagine the same principle. Tired and weary of the treatment all day, and he reacts with a passionate, stress-relieving slap. Petty, minuscule, harmless, but, in the eyes of UEFA, it's a fair red. You can't hit players in the face on purpose. Not allowed.

Drogba got his flicker of satisfaction, his brief revenge against that imposing bully, and now he'll probably get the rest in the form of a long-overdue move to Serie A. It's just a shame his teammates go home empty-handed.